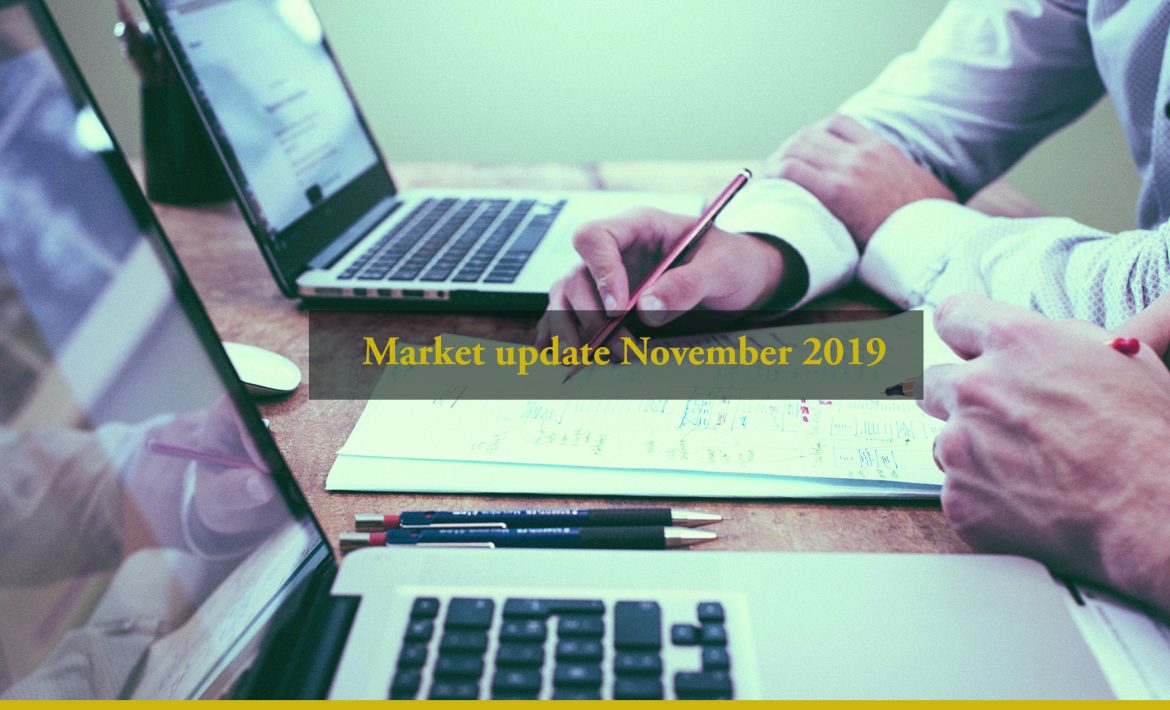 Supply is low, demand very strong, in all parts of the GTA. Especially in the entry-level market…
The trend of annual growth in sales versus annual decline in new listings continued in October 2019, with new listings down by 9.6 per cent compared to October 2018. The resulting tighter market conditions compared to a year ago resulted in positive annual rates of price growth across all major market segments, from a GTA-wide perspective.
"As market conditions in the GTA have steadily tightened throughout 2019, we have seen an acceleration in the annual rate of price growth. While the current pace of price growth remains moderate, we will likely see stronger price growth moving forward if sales growth continues to outpace listings growth, leading to more competition between home buyers," said Jason Mercer, TREB's Chief Market Analyst.
Market Update for October 2019
Low-Rise (detached, semi-detached and townhomes) – As indicated by the months of inventory report or MOI (a measure of supply and demand) in October detached homes have seen a slight continued upward trend in prices the fifth straight month.

A balanced market is typically indicated by an absorption rate of around 4 to 6 months of inventory. Below 4 months of inventory, there is upward pressure on prices, while above 6 months of inventory represents a downward pressure on prices.

In Toronto (2.0 MOI), Peel (2.0 MOI), Durham (2.2 MOI), Halton (2.6 MOI) there has been slight to moderate upward pressure on prices for detached homes for the last five months. As has been the case for several months now, in York Region, the most severely affected area by the sharp decline in prices after the 2017 peak, detached homes have been balanced with a very slight upward pressure on prices (3.6 MOI). Semi-detached homes and freehold townhomes were in very high demand in October across the GTA, as inventory remains low and buyers are forced to compete to get into this market. (below 1.5 MOI in ALL areas of the GTA).

Condos – The condo market continues with strong growth in all areas of the GTA. Especially in the entry level segment (up to $500k), where first time buyers and investors are competing on what limited inventory is available. As you can see in the MOI report, Peel Region has the strongest upward pressure on prices for this segment of the market, closely followed by the rest of the GTA. Peel (1.1 MOI), Halton (1.5 MOI), Toronto (1.3 MOI), Durham (1.4 MOI) & & York (1.7 MOI).
Would you like to know what's happening with home prices in your area?
CLICK the links below and find out!
If you have friends or family that you think might be interested in these reports, please feel free to share them. I would appreciate it!
Please contact me should you have any questions or if you'd like a more in-depth report on the status of the market in your area.
TORONTO Report BRAMPTON Report BURLINGTON Report
MILTON Report VAUGHAN Report MISSISSAUGA Report
OAKVILLE Report MARKHAM Report DURHAM Report
In The News
Immigrant-fuelled demand is helping to power Canada's housing market
Courtesy of The Financial Post
Toronto housing prices jump the most since 2017 — the year the market peaked
Courtesy of The Financial Post
Toronto real estate exits the red zone for the first time in four years, says CMHC
Courtesy of The Toronto Star
Rental buildings making a comeback as housing crunch pushes demand, returns
Courtesy of CP24