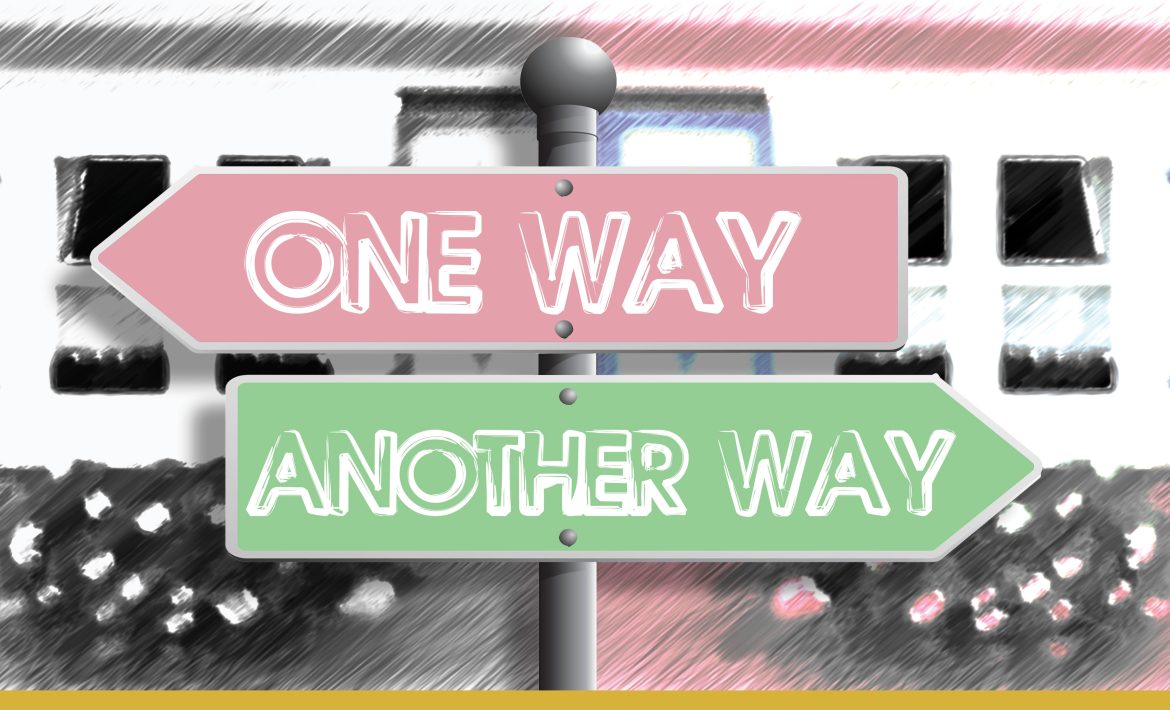 It's been a roller coaster ride for the real estate market in the past few years. At the beginning of the pandemic, we saw unprecedented low mortgage rates, sky-high personal savings, and strong consumer confidence which drove strong price growth. Since the peak in early spring of 2022, the market has shifted in the GTA, and prices have dropped an average of 20% to 30%.
While no one can predict what will happen in the coming months, I think it's safe to say that in the short term, there will be continued downward pressure on prices in the GTA due to high interest rates and poor consumer confidence. Real estate is a long-term investment and there are still opportunities in a falling real estate market.
---
Moving up the property ladder
Generally, when we think of moving up the property ladder in the GTA, it's selling your condo and buying a low-rise property – e.g., townhouse, semi, or detached. Despite the current downward pressure in prices, moving up is easier now than it was during the frenzy that lasted until February of this year. The reason for this is that condos while having lost value since the peak, are faring much better than the low-rise segment.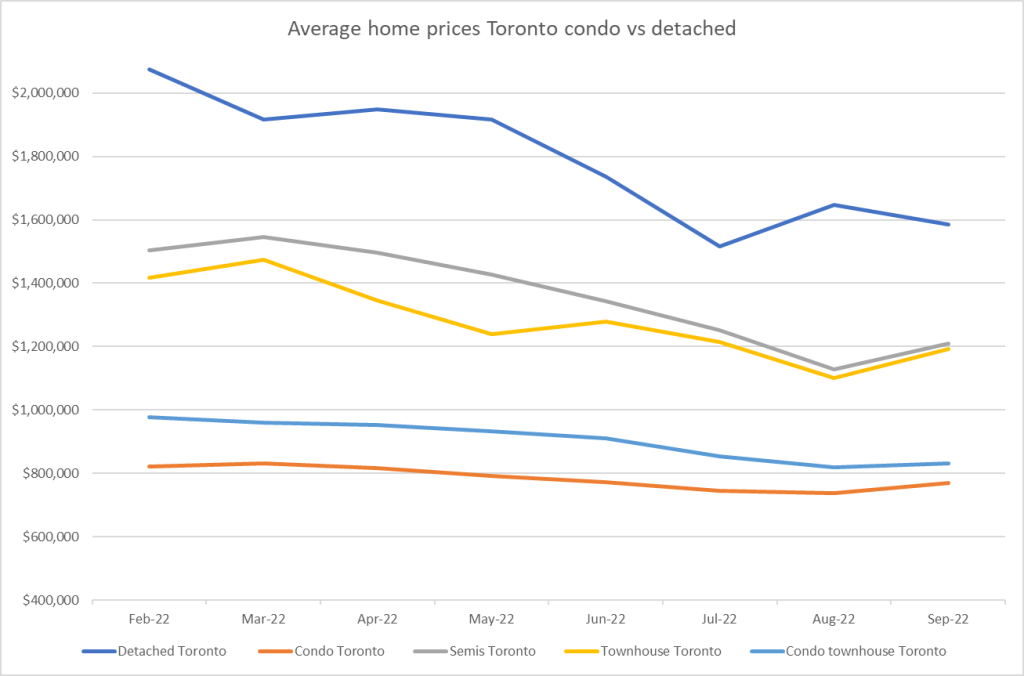 Looking at the chart for Toronto above you'll see that the average prices for condo apartments and condo townhouses have dropped only 11%, while the average prices for detached and semis have dropped by 29% and 24% respectively. So, if you own a condo that has lost approximately $80,000 since the peak, you can move up to a semi or detached and save $284,000 to $465,000.
---
Downsizing
Based on what I just wrote in the previous paragraph, this may sound hypocritical. Let me add some context. Downsizing from a detached house in Toronto to a condo in Toronto is not the best financial move at the moment. However, if you are looking to downsize and move out of the city it makes sense. The suburbs of Toronto are not faring any better than the stats shown in the graph above and while you'd sell for considerably less than what you could've sold for earlier this year, you'll also buy at a similar discount.
You'll increase cash flow by buying a lower-priced property outside of the city, paying off your mortgage or other debt, and likely paying less in utilities and other home-related expenses.
---
First-time buyers and investors
First-time buyers have been in a tough spot for many years in GTA's housing market. The question is, are they in a better place today than they were in February of this year? Let's take a look at a few likely scenarios that I've seen in the market recently.
Investors on the other hand have been using price growth as the main incentive to invest in real estate because negative cash flow has been a reality for most real estate investors in Toronto for years.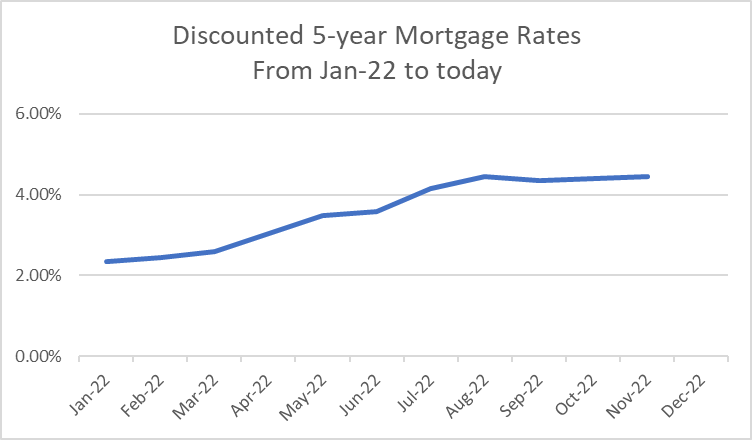 | | | | | | |
| --- | --- | --- | --- | --- | --- |
| Type of property | Purchase price | Interest rate at the time of purchase | Amortization period | Down payment | Monthly Payment |
| Condo apartment purchased in February | $600,000 | 2.34% | 25 | 10% = $60,000 | $2,450 per month |
| Condo apartment purchased in November | $534,000 | 4.44% | 25 | 10% = $53,400 | $2,726 per month |
| Semi-detached purchased in February | $1,400,000 | 2.34% | 30 | 20% = $280,000 | $4,326 per month |
| Semi-detached purchased in November | $1,064,000 | 4.44% | 30 | 20% = $212,800 | $4,262 per month |
Looking strictly at these numbers you can see that first-time buyers and investors for entry-level condos are worse off now, in terms of monthly payments, than they were at the peak while saving very little on their down payment (only $6,600). For buyers looking to get into the market at a higher price point such as an entry-level semi, it has become more affordable on their monthly payments (only by $64 per month) while the down payment requirement is substantially lower by $67,200. Overall, if you are looking to buy and you're not flush with cash, the recent price correction in GTA's housing market hasn't resulted in major savings when looking at the chart above. Having said that, personally, I'd be much more comfortable carrying an $850k mortgage than a mortgage of $1,1 million. In the long run, it provides a lot more financial flexibility and freedom.
One important thing to consider in this equation is that interest rates probably won't be at this level forever and over the long term when you calculate the total interest over the entire amortization period it is definitely better to have a smaller mortgage.
---
Other must-reads for buyers and sellers are:
The market's momentum has slowed after the Bank of Canada raised interest rates in June, leading to uncertainty and affecting short-term home sales. In July available listings were slightly up compared to June while sales dropped from the previous month. This trend was evident across the entire GTA, more so in the condo market than […]

---

Recently I've had an investor client reach out to me asking for advice for selling his tenanted condo in Toronto so I figured it'd be a good idea to write a blog post to help investors/landlords navigate through this complicated process. If you are considering selling your tenanted condo in Toronto the info below will […]

---

While there was a decline in residential real estate prices across the GTA in the second half of 2022, for many prospective buyers waiting for further price drops this spring has been disappointing. Some of those buyers have returned from the sidelines to find a competitive market with a very limited supply of inventory. The […]

---
Questions? Get in touch!
Don't like filling out forms? Feel free to call, text, or email me. My cell phone number is 647-830-5210 and my email is info@igorveric.com